Philosophies, strategies, and technologies involved in teaching & learning can all evolve over time. We love to share well-established findings through workshops, but sometimes a space to discuss and interrogate ideas without the pressure of needing to already have the answers can provide a fresh perspective on the challenges of teaching. Instructor learning communities provide an avenue to explore and discuss these timely topics.
Structure: Learning Communities will meet at least four times a year to discuss books, articles, lectures, or some other artifact surrounding a particular topic of interest.
Dates & Times: Some learning communities will have dates & times scheduled in advance, but if you are interested in participating please register even if these times don't work for your schedule. We may offer alternate schedules to meet demand.
Incentives: The CTT will provide books for those interested in participating in a learning community. Participation in a learning community also contributes toward the Reflective Practitioner Program.
Topics: This year the CTT will facilitate learning communities on the topics below
Spring 2023 Learning Communities
While dates have not yet been identified, we have plans to offer the following learning communities in Spring 2023:
Validation Theory, facilitated by Deepak Keshwani
Academic Ableism, facilitated by Grace Troupe and Abby Mitchell
The Value of Play in Higher Education, facilitated by Julia Remsik Larsen
Creating Inclusive Online Communities, facilitated by Amy Ort and Zach Manley
Sign up to Receive More Information
Ongoing: Alternative Grading Strategies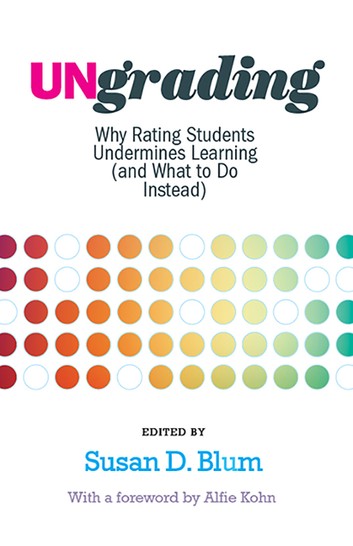 Professor Susan Blum describes her decision to try "ungrading" as a way to create a space for "adventure, zest, risk - and genuine learning." In this year-long learning community, we will discuss the principles of ungrading and how to apply it in one of our courses. Specifically, we will spend fall semester discussing Blum's edited volume, Ungrading: Why Rating Students Undermines Learning (and What to Do Instead). We will also workshop how we will redesign one of our courses to apply the ungrading approach. In the spring semester, we will meet to discuss our experiences and reflect on student feedback.
Facilitator: Emily Kazyak, associate professor of sociology and women's & gender studies
This learning community is scheduled to meet Wednesdays 11am-12pm on the following dates:
August 31
September 28
November 16
January 25
March 22
May 3
-Registration Closed-
Propose a Learning Community
If you're interested in proposing a topic for a future learning community, contact Steven Cain.